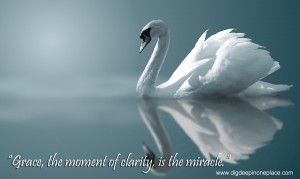 I have just realized I was issued an attitude about cancer and my treatment for it. Though everything I was told is true, it was essentially negative. Not realizing I was infected, I would respond negatively. People would ask, "How are you feeling?" My response would be, "I feel like a guy going through chemo-therapy. I feel awful; my bones feel like someone has been beating on them with a stick, I'm grumpy, irritable, depressed and exhausted. What else do you expect from me?" This was not conducive to a positive outcome. Since I have learned that the only way to change my thinking is positive action, I was endeavoring to be of help by encouraging, praising, complimenting and blessing everyone on my path. But something was missing.
Then my friend, Maggie, told me she had a vision about me in the middle of the night. She saw me getting the shot to boost my white blood cell counts; the needle was the size of a one inch pipe. She said she should have been horrified but realized suddenly that they were shooting me full of love, light and joy. Streams of effervescent, sparkling ribbons of red, blue, yellow and purple love were pouring into me. The reason it hurt was because they gave me so much I had to give it away.
Yikes, once again I missed the miracle. I suddenly realized had been fighting, disapproving, and judging the gift of healing. This simple shift in perception has changed my whole experience. It has gone from dread to joy. I don't mean happiness; I mean joy, the acceptance of all of it.
The recipe of the 12 Steps that appears in our book "Dig Deep in One Place" was essential for me to even begin to hear truth. Because I have the solution, I know that action upon this information was the only way to get tangible results. Telling all my nurses the story of Maggie's vision was how I started the positive action. A change happened immediately; the chemo drip and the white blood cell shot became life-saving elixirs.
Moving this perception into every area of my life where negativity occurs is amazing. There is a lightness and peace I didn't know existed. The 12 Steps have given me an open mind. The noise is gone and there is gratitude in my heart. Life is not a burden to be endured but an experience to help others. So pay attention, empty the noise from your head and let your heart sing.
God bless you,
I love you
Bill